Addressing COVID-19: April 2021: UK Falcons and ID Rings will remain open and operational throughout the pandemic. As per normal protocol, ID Rings will be supplying closed rings, split rings and bird registration globally and will try its very best to keep on top of the demand for rings. We would advise early breeding season closed ring purchases. Delivery within the UK is 24 / 48 hours.
UK Falcons equipment deliveries are taking 24 / 48 hours within the UK. Please browse our falconry equipment STORE at UKFALCONS.COM
ID Rings will provide all 'service updates' on this news page.
Thank you for your continued support.
---
Addressing COVID-19: March 2020: Like so many of you, we have spent the recent weeks learning about the coronavirus (COVID-19) and how it is impacting our business and our world. As part of the global supply chain, and in compliance with current Government guidelines on social distancing, UK Falcons and ID Rings will remain open and operational. As per normal procedure, we will be supplying split and closed rings globally and will try our very best to keep on top of the demand for rings here in the UK, and across Europe. We would advise on early purchases, as delivery time may take longer due to the current situation, especially to countries outwith the UK.
Remote working: staff that is able to work remotely have already made the transition, and feedback has shown that this has not impacted on our ability to operate successfully. The staff that is unable to work remotely, will continue to follow the strict guidelines on social distancing.
Action: UK Falcons and ID Rings takes the COVID-19 threat seriously. We are continuing to monitor the latest updates about the global outbreak and are taking every action to safeguard the health of our employees and preserve our ability to operate during the pandemic. We have implemented procedural change within our team to ensure that we comply with Government guidelines, in an attempt to keep everything running safely. Our team will continue to guide appropriate measures and take actions necessary to ensure our operations continue running. We will provide any updates as the situation warrants on this news page, and via social media.
Thank you for your continued support. We wish good health and safety to all our business partners, their employees, families, and the global community.
---
SUCCESS IN NUMBERS: BUSINESS GROWTH for ID Rings:
We have reported a 61% rise in the number of breeders using their closed rings and a massive 74% increase in the supply of their flying split rings with data-base registration. The figures relate to 'Europe' as being the supplied market and not defined to any one country. We also supply our products outwith Europe.
The economic crisis in the UK and Europe has had no effect on our bottom line or strategy for growth. We believe that our product quality and pricing, our services and our on-line customer support are the main contributing factors to our success. We are seeing a big shift now from other suppliers and we put this down to our 'price comparison, quality and availability' strategy. Established in 2008, and after years of business, ID Rings is now respected in many countries across Europe. Marketing feedback also leads us to believe that we are now seen as the preferred supplier for closed rings, split rings and ID ring registration in the UK. ID Rings are less expensive than other suppliers, especially when it comes to registering your bird.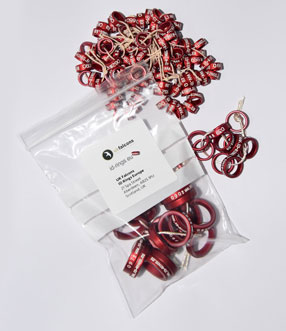 ID Rings would like to thank all of its customers 'existing and new' for their confidence in our products and service, and their continued support in the purchase of our rings and ID ring / bird registration.

BREEDERS RINGS AND SPLIT RINGS: REGISTRATION OF YOUR BIRD, RING: registration of our breeders rings (closed rings) is very simple and can be done online in a few minutes. (You the owner) can select to give a phone number and/or an email address for his/her point of contact which is kept confidential.

BREEDERS RINGS : FIRST REGISTRATION OF YOUR BIRD, RING: registration is of our breeders rings (closed rings) is very simple and can be done online in a few minutes. (You the breeder) can select to give a phone number and/or an email address for his/her point of contact which is kept confidential.

BREEDERS RINGS, NEW OWNER : REGISTRATION OF YOUR BIRD, RING: when you purchase a bird wearing one of our closed rings, (you the new owner) of the bird can update the ownership and contact details for the bird online at www.id-rings.com, keeping the details of the bird and (you the new owner) up to date and confidential, making sure that all lost bird owners are identified quickly.

SPLIT RINGS, NEW OWNER: REGISTRATION OF YOUR BIRD, SPLIT RING: when you purchase a bird wearing one of our split rings, (you the new owner) of the bird can update the ownership and contact details for the bird online at www.id-rings.com, keeping the details of the bird and (you the new owner) up to date and confidential, making sure that all lost bird owners are identified quickly.

CONFIDENTIALITY: OF YOUR DETAILS: the contact (phone number and/or email address) that is submitted with your registration is held confidentially on our registration system. ID Rings use these confidential contact details to contact only YOU the owner direct. ID Rings will not disclose these contact details to anyone at any time, nor for any reason, and are held strictly confidential on behalf of YOU the registered owner.

WHAT HAPPENS: IF I LOOSE MY BIRD?: lets say that you loose your bird and somebody finds it, your bird will be wearing one of our breeders rings (closed ring) or split rings, the finder contacts ID Rings online at www.id-rings.eu (*which is clearly marked and unique to our rings) where they will be automatically forwarded to the "Lost Bird Search Page". There are two contact options for the "finder of the bird"; they can contact us by email or by phone. ID Rings then contact the owner of the lost bird and forward the "finders" contact details to the owner. However, we can only do this if the BIRD IS REGISTERED WITH US, so please make sure you register your bird.

DO I CONTACT ID-RINGS EUROPE: IF/WHEN I LOOSE MY BIRD?: if/when you loose your bird, you should let us know immediately so that we can publish this information on our website at www.id-rings.com and on the birdmart page of our sister site at www.ukfalcons.com; (your contact details will always be held confidential and will not be published). The birdmart page on our sister site at www.ukfalcons.com has now over 100,000 visitors per week and is the number 1 optimised birdmart on the internet today. When your bird is found, the ID breeders ring number on your bird will lead the finder direct to our webpage, where they will make contact with us, and in return, we will make contact with you for the safe return of your bird.

ARE ALL BREEDERS RING NUMBERS: UNIQUE?: there cannot be another ID number (anywhere worldwide) with the same numbers and letters, because we include our web domain name as part of our unique numbering system on all of our breeders rings and split rings, for example a typical ring number could be, 6402 WWW.ID-RINGS.COM.

When you ring your bird with a (breeders ring or split ring) from id-rings.com, you will be completely confident that you have a 'unique-identity-number' on your bird for life. This 'unique-identity-number' is not just for Article 10 Registration, our breeders rings keeps on working for the life of your bird as a quick and secure 'return-if-lost' identity tag.

RINGING AND REGISTERING: YOUR BIRD: once you have rung your bird with our breeders ring (closed ring), the next stage is to register it with our ID Rings Registration data base, this is incase you loose your bird and want it identified when found. This can be done either by (you the breeder) or (you the new owner) of the bird. This service can also be used for Split Rings (new owner) registration.

WHAT HAPPENS IF I DO NOT: REGISTER MY BIRD?: Lost birds found wearing our Closed ID rings that have NOT been registered on our data base, will not be identified when lost and found, so it is VITAL to register your bird/ring before you fly your bird. If we are notified of a bird lost and found which is wearing one of our closed rings, but the ring has not beed registered with us and on our database, you must register the bird prior.

BREEDERS RINGS PURCHASE: WHAT WILL I RECEIVE?: you will receive; 2: Captive Breeding / ID-Ring Registration Certificate: to be kept by you and passed to the new keeper. This is a dual purpose Certificate, the Captive Breeding section has to be filled in and kept by (you the breeder). 10 copies of the unique Certificate will be sent out to you with your order [1 per ring].


1: Closed Rings (all closed rings are supplied in strings of 10 rings). All of our rings have a unique identity number and are not year marked.

2: Captive Breeding Certificates: to be kept by you and passed to the new keeper. The Captive Breeding section has to be filled in and kept by (you the breeder). 10 copies of the Certificate will be sent out to you with your order [1 per closed ring]. The service is quick and efficient, there is no need to send anything back to us by post.

top
SPLIT RINGS PURCHASE: WHAT WILL I RECEIVE: you will receive;
1: Split Ring (all split rings are supplied individually). All of our split rings have a unique identity number and are not year marked.

2: ID Ring Registration Certificate: This unique Certificate will be sent out to you with your split ring. The Certificate must be kept by you and passed to any new keeper of the bird in the future. When you receive your Ring and Registration Certificate, it is important that you EMAIL ID Rings with the contact details that you would like used in the event of your bird being lost. Your details are held in strict confidence.

AT A GLANCE SUMMARY: OF THE BASICS
BREEDERS AND SPLIT RING EGISTRATION: OF YOUR BIRD, RING: registration of our breeders rings (closed rings) is very simple and can be done online in a few minutes at www.id-rings.com. (You the owner) can select to give a phone number and/or an email address for his/her point of contact which is kept confidential.

CONFIDENTIALITY: OF YOUR DETAILS: the contact (phone number and/or email address) that is submitted with your registration is held confidentially on our registration system. ID Rings use these confidential contact details to contact only YOU the owner direct. ID Rings will not disclose these contact details to anyone at any time, nor for any reason, and are held strictly confidential on behalf of YOU the registered owner.

ARE ALL RING NUMBERS: UNIQUE?: VERY unique!, .. there cannot be another ID number (anywhere worldwide) with the same numbers and letters, because we include our web domain name as part of our unique numbering system, for example a typical ring number could be, 6402 WWW.ID-RINGS.COM.

When you ring your bird with a (breeders closed ring or split ring) from id-rings.eu, you will be completely confident that you have a 'unique-identity-number' on your bird for life. This 'unique-identity-number' is not just for Article 10 Registration, but it keeps on working for the life of your bird as a quick and secure 'return-if-lost' identity tag.

RINGING AND REGISTERING: YOUR BIRD: once you have rung your bird with our breeders ring, the next stage is to register it with our ID Rings Registration data base, this is incase you loose your bird and want it identified when lost and found. This can be done either by (you the breeder) or (you the new owner) of the bird. This service can also be used for Split Rings (new owner) registration.

WHAT HAPPENS IF I DO NOT: REGISTER MY BIRD?: Lost birds found wearing our breeders rings that have NOT been registered on our data base, will not be identified when lost and found, so it is VITAL to register your bird/ring before you fly your bird.
top